Seychelles Pegasos Discovery Cruises 2019 & 2020
Highlights include the islands of Mahe, Praslin, Cousin, Curieuse, La Digue, St.Pierre and Moyenne
Book now for 2019 & 2020 - sailings throughout the year - up to 40% Early Booking Discounts
Click on your preferred cruise window below - 8 day, 5 day or 4 day:-
10% Discount Offers on all Pegasus 8, 5 & 4 day island cruises
10% Discount applies to cruises during the following periods:
Winter Cruises - taken between November 2019 to end of April 2020 - latest booking date is 10 October 2019
Summer Cruises - taken between May & October 2020 - latest booking date is 31 January 2020
This offer cannot be combined with other Pegasus offers and subject to availability at time of booking
Honeymoon Package: 25% cruise discount for the bride! - a welcome bottle of champagne, fruit basket, a special candlelit dinner on board plus a "Memories" gift on departure. Please note that you have to be on board within 6 months of your wedding date
10% discount for Wedding Anniversary couples who have spent their honeymoon on board a Variety Cruise vessel
Fabulous Seychelles - With a choice of three Seychelles Discovery cruise programmes of 8, 5 or 4 days, discover and capture the full natural beauty of the exotic Seychelles islands from the comfort of your cruise ship. Sail amongst these magnificent tropical islands and be amazed by the soft white beaches, warm turquoise waters, verdant rainforests, giant tortoises, unique species of flora and fauna living naturally amongst gigantic nature carved rock formations. This is Seychelles discovered in a relaxed and leisurely as never before.
Pegasos Accommodation Details - Pegasos accommodates up to 44 guests in 21 pleasantly furnished cabins. 3 cabins on the Sun Deck, 2 cabins on the Upper Infinity Deck and 16 cabins on the Main Riviera Deck. All cabins are outside facing with large windows, air conditioning, music system, TV/VCR unit, internal telephone service, WiFi (chargeable), mini safe and hairdryer, en-suite bathrooms with shower.
The cabins have either queen size or twin beds. Category A cabins 113, 114, 115, 116 have triple accommodation.
For your extra relaxation, luxuriate in the Zen Spa, located on the Lower Ocean Deck - or enjoy a massage on the Upper Infinity Deck.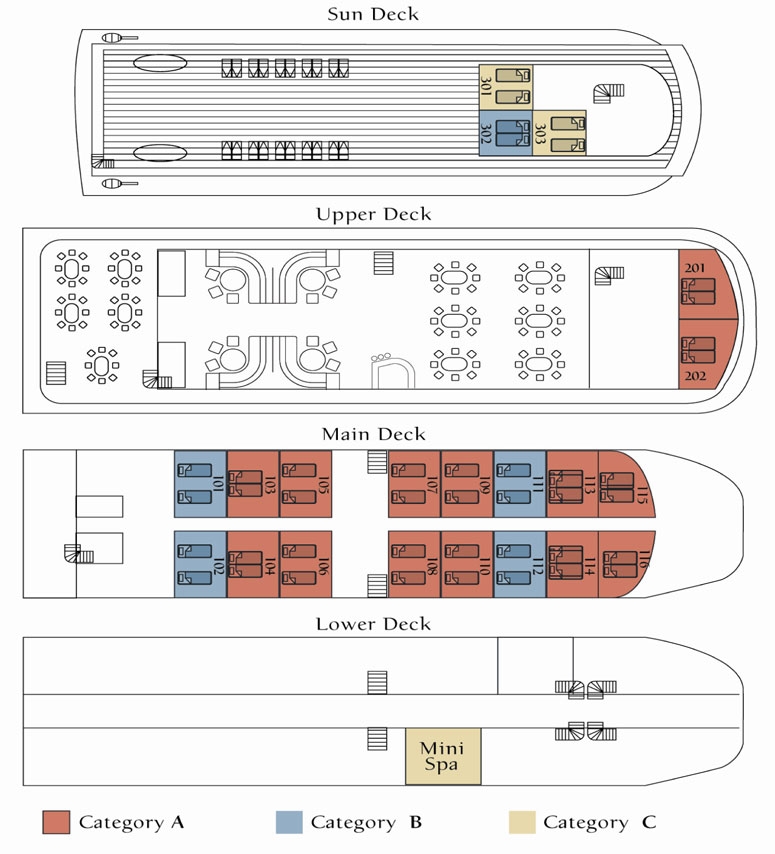 Life On Board
Upper Infinity Deck - Indoor Main Lounge & Dining Room - the main lounge has comfortable sofas and a full service Bar, this area being the social centre of the ship with daily briefings on destinations for that day or in which to relax with a good book from the library.
The adjoining dining area has large windows providing fabulous views of the islands. All guests can be accommodated in one sitting with a high standard of cuisine with some local flavours. Totally renovated in 2015, the lounge and dining areas have natural wood flooring, comfoartable sofas with soft fabrics and warm colour tones.
Upper Deck Outdoor Dining Area - Unassigned seating for for all guests with generous buffet dining space. Partially semi-covored, or fully opened areas, guests can chose their preferred seating. Cold and hot buffets with an International flavour to be enjoyed from your comfortable deck chairs.
Sun Deck & Outdoor Bar - with an array of sun loungers and is a perfect location from which to view the beauty of the Seychelles islands. From the stern, guests have access to transfer boats for island excursions, swimming, snorkelling and diving, weather and anchorage permitting.

Your Seychelles Cruise Experience
The essence of our Pegasos Seychelles Cruise programmes is for guests to discover the natural magic of the Seychelles. Seeing is believing in this wonderful world of small tropical islands scattered around the warm seas of the Indian Ocean.
Seychelles is a destination full of surprises and variety. No two islands are the same. See the hundreds of palm fringed soft white sand beaches with clear turquoise warm seas, friendly local people with their quaint customs and a whole range of diverse indigenous flora and fauna.
For example, take the giant Coco de Mer palm nut - the largest in the world - found in the Vallée de Mai on Praslin Island, where, we are reliably informed, General Gordon of the Sudan discovered this lush primeval valley in 1800 and aptly named it "The Original Garden of Eden" - now a Unesco site.
What can compare meeting up with one of the many thousands of giant tortoises that roam the Seychelles islands? How did they arrive on these isolated islands 1000 miles from any other land mass? Your Pegasos Seychelles Cruise gives you the opportunity to unravel the mysteries of these fascinating creatures and so much more within these romantic and beautiful islands.